Flowmaster 10 Series Race Mufflers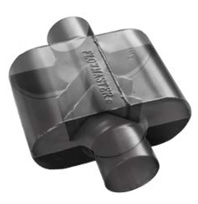 The 10 Series Race Mufflers are a compact lightweight single chamber design that will net a noticeable sound reduction vs open headers without sacrificing valuable and hard earned horsepower. They are available in three compact case sizes, ranging from 3.00″, 4.00″ & 5.00″ inches tall, with inlet and outlet sizes ranging from 2.50″ up to 4.00″, and in two inlet and outlet configurations. Race proven technology.
Looking for the most aggressive sounding Flowmaster muffler
available? Flowmaster's new Super 10 Series mufflers are so
aggressive that we can't even recommend them for use on street driven vehicles. The Super Ten Series utilize the same patented Delta Flow performance technology used in our highly popular Super 40 and Super 44 Series mufflers.
Best of all they are constructed with durable 409S Stainless Steel for long life and are offered in a variety of inlet/outlet configurations. Backed by our limited lifetime warranty, these short, single chamber mufflers are not for the faint of heart delivering as close to open pipe sound as is possible. If you want high impact sound, theSuper 10 Series mufflers could be just the ticket.

SUPER 10 SERIES DELTA FLOW
12.50" OAL X 6.50" CASE X 9.75" WIDE X 4.00" THICK







In
Out
Part
Number
2.50"
2.50"
842518